We thought long and hard on what ultimate package we could put together to offer something really awesome for your contribution to the Flake & Flames Final Funding campaign.
Here's what is included with the perk we call
THE ULTIMATE COLLECTOR.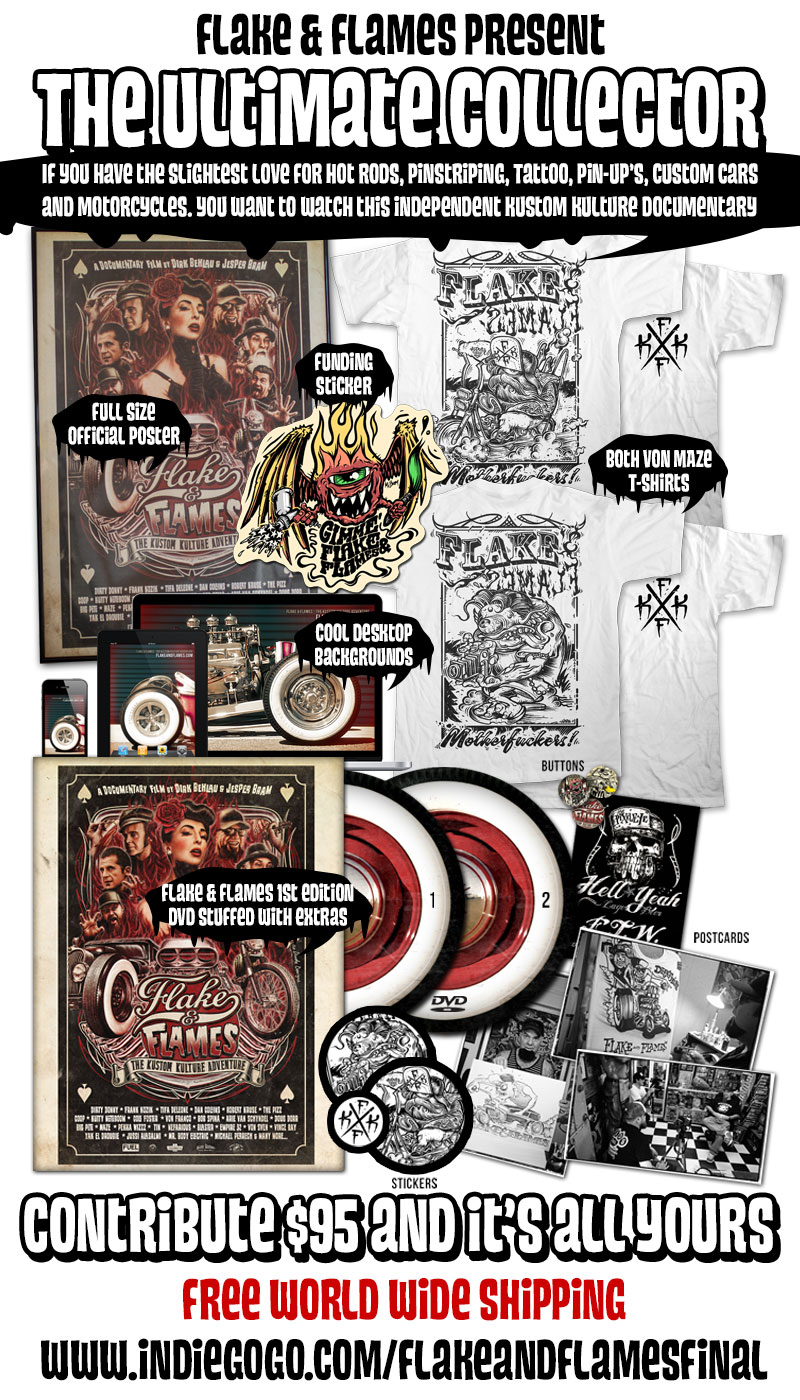 FLAKE & FLAMES DVD
The main feature of the show. The actual complete 70 minutes Kustom Kulture Documentary. A film project never before attempted, of course it needs a kick ass packaging. The 1st edition of Flake & Flames will be something special. We will produce a limited run of DVD packs full of all the cool goodies we can fit in the box.
FLAKE & FLAMES DESKTOP BACKGROUNDS
We all like to have cool backgrounds on our phones, tablets, and computers. It's just like the posters with motorcycles, cars, and pin-ups we hang in our garage. It makes you feel like it's yours. Makes it feel home. Dirk "The Pixeleye" Behlau, Director of Photography on the film, have designed this awesome pack of digital backgrounds to fit your various gadgets.
FULL SIZE OFFICIAL POSTER
The super awesome Official Flake & Flames Poster created by Tom Hodge of The Dude Designs. Toms work is just out of this world. This large full size poster measures 70x100cm aprox. 27.5×39.5 inches.
2 DIFFERENT VON MAZE T-SHIRTS
Von Maze designed these new awesome t-shirts for this funding campaign. The T-Shirt has Flake & Flames Motherfuckers with a wacky monster printed on the back, and a cool Flake & Flames, Kustom Kulture Emblem on the front. We can't wait to wear these our selves.
EXCLUSIVE CAMPAIGN STICKER
It's not called collecting for anything. The official Flake & Flames Final Funding Campaign Sticker. This bad boy is designed by the Flake & Flames Producer Jesper Bram a.k.a. Mr.Bram. ONLY AVAILABLE TO BACKERS OF THIS CAMPAIGN.
ACKNOWLEDGEMENT
Your name will be forever etched in our hearts and tweeted through the blogosphere as a GENEROUS SUPPORTER, and a thank you with your name and link on the list of acknowledgements will be posted on flakeandflames.com.