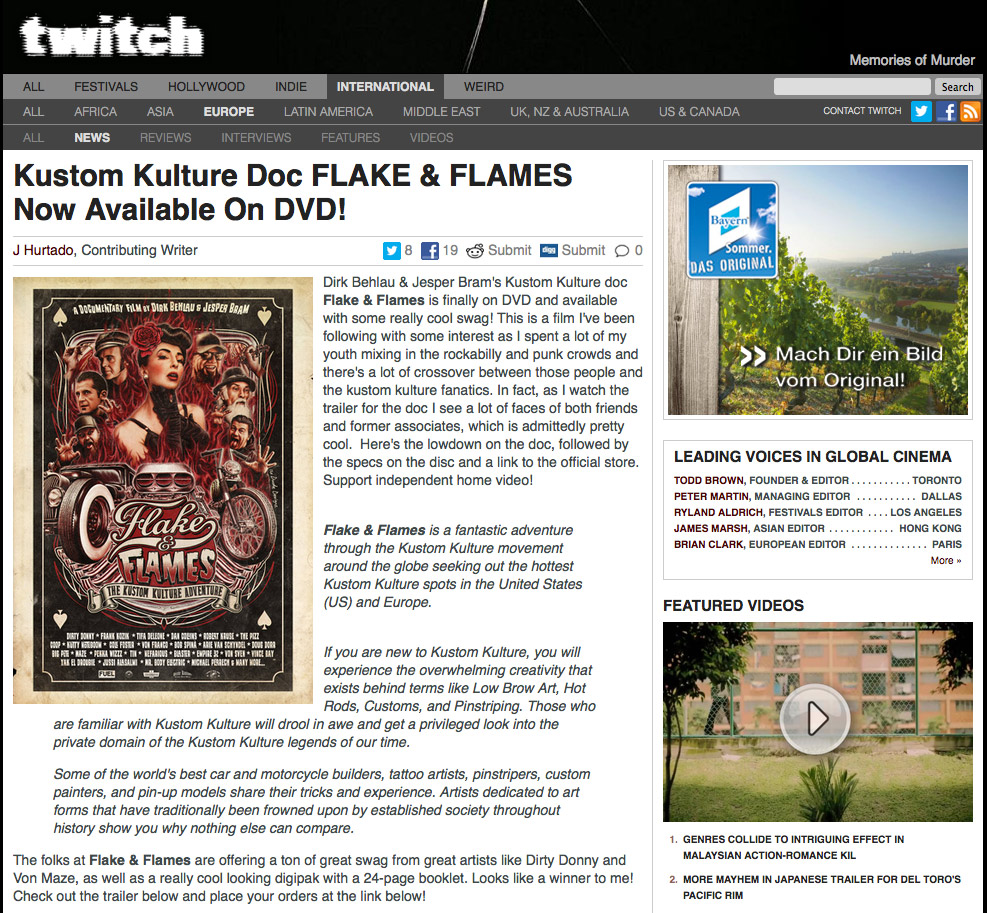 The final Flake & Flames trailer premiered at Twitchfilm!
"Dirk Behlau & Jesper Bram's Kustom Kulture doc Flake & Flames is finally on DVD and available with some really cool swag! This is a film I've been following with some interest as I spent a lot of my youth mixing in the rockabilly and punk crowds and there's a lot of crossover between those people and the kustom kulture fanatics. In fact, as I watch the trailer for the doc I see a lot of faces of both friends and former associates, which is admittedly pretty cool. Here's the lowdown on the doc, followed by the specs on the disc and a link to the official store. Support independent home video!
Flake & Flames is a fantastic adventure through the Kustom Kulture movement around the globe seeking out the hottest Kustom Kulture spots in the United States (US) and Europe.
If you are new to Kustom Kulture, you will experience the overwhelming creativity that exists behind terms like Low Brow Art, Hot Rods, Customs, and Pinstriping. Those who are familiar with Kustom Kulture will drool in awe and get a privileged look into the private domain of the Kustom Kulture legends of our time.
Some of the world's best car and motorcycle builders, tattoo artists, pinstripers, custom painters, and pin-up models share their tricks and experience. Artists dedicated to art forms that have traditionally been frowned upon by established society throughout history show you why nothing else can compare.
The folks at Flake & Flames are offering a ton of great swag from great artists like Dirty Donny and Von Maze, as well as a really cool looking digipak with a 24-page booklet. Looks like a winner to me! Check out the trailer below and place your orders at the link below!
www.buyflakeandflames.com