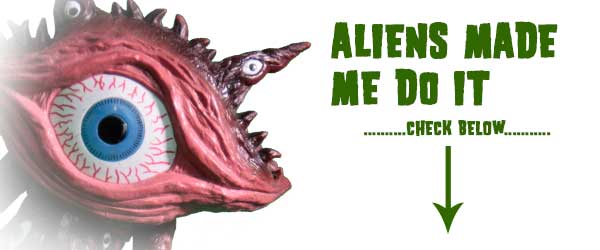 I didn't think I was going to do a Black Friday sale for Flake & Flames, but then an Alien landed in the office and convinced me otherwise.
One of the most rewarding things about having created Flake & Flames Overdrive is hearing what others get from watching the videos. Like this one review…
"This stuff is so awesome! Insightful and funny as hell. I was already blown away by the first edition, Flakes & Flames, but Overdrive made it appear as just some kind of an extended trailer. Anyone who has the slightest interest in Kustom Kulture and Lowbrow Art just HAS to watch this!…Your videos are the stuff that keeps me alive in these times. Keep it coming!"
It doesn't get much better than that does it? I can't help but show you this quick one as well.
"Truly an awesome video. Inspired me to get back into painting and art. Truly hope to see more videos like this in the future."
That is exactly what Flake & Flames is all about; inspiring you to create something on your own. We hear stories from people all over the world that have started something they are passionate about after watching Flake & Flames.
Some friends in Germany got together and opened their dream bar. One guy took on leather working and another got inspired to start pinstriping. I get these stories from all over the place. Apparently that is what Flake & Flames does to you. I'm very proud that it turned out like that. Whatever you are into, you get inspired to create.
We are all into different things. One of the things I like to do is to play around with stop motion animation. So I decided to pretend that I was working very hard to put together a serious Black Friday campaign for Flake & Flames. But honestly….
It was just an excuse to create something I enjoyed creating. I made a super insane Black Friday offer, which is probably on the edge of making us lose money. However, it's only available in a really short blitz, so I think we will survive. Skip straight to the offer in this link.
The main thing was to play with all my photo toys and just create whatever I thought would be fun. I hope it turns out to be an ad that is a little different from what people are being bombarded with these days. I even did a little making-off video just by mounting my phone in time-lapse mode on a tripod.
(I trust you have seen the final video ad since you are here; otherwise, I have added it to the bottom of this post.)
After finishing the ad Wednesday morning, I spent the rest of Wednesday setting up a landing page for the Black Friday offer.
In the end, I settled on creating a page on Shopify, specifically for that deal, because Shopify is rock solid and it really works great for the customers, which, after all,  is most important. So I hope you will go and check out the offer.
If you have, at all, considered getting the new Flake & Flames Overdrive DVD Box set, I would strike now. In addition to not having that many DVDs left, I will not be able to put an offer like this together ever again.
[powr-countdown-timer id=877df279_1479916187210]
Consider what the Kustom Kulture or Lowbrow Art fan would think of getting all this:
The just released Flake & Flames Overdrive multi DVD box set including the original film, "Flake and Flames" + 20 new short films, including never before released material. More than 3 hours of total video to inspire your socks off.
A The Pizz tote bag designed exclusively for the Flake & Flames Overdrive. Perfect for hauling your paint cans and booze.
4 limited edition custom "Flake & Flames Overdrive" stickers. The stickers are 10 x 10cm, die cut and laminated to withstand a nuclear meltdown (because I like stickers that rule).
A Custom made Flake & Flames Air-freshener. This thing will keep your car smelling like freshly picked lemons.
A Flake & Flames custom embroidered patch designed by Mr. Bram, to stitch or iron on to that awesome jacket of yours.
A Large Flake & Flames Overdrive Poster (50x70cm) designed by The Pizz and Mr. Bram. (Ships folded).
All of that adds up to €112. A solid 30% discount brings it down to €78. . But since it is a Black Friday blitz offer, let's make it €39 for the whole lot!!!
EXTRA BLACK FRIDAY BONUS
With your insanely cool Flake & Flames DVD, we will also send you a stream/download code to the full HD Digital version of Flake & Flames Overdrive. As a result, you can watch the videos on the train, plane or wherever you are, whenever you want.
That's an extra €27 added to the value, which brings the total saving up to €100!!!
Maybe I went a little nuts on that deal, but I'm addicted to hearing from people around the world that express their love for what we have created. I hope you want to experience it as well.
[powr-countdown-timer id=877df279_1479916187210]
PLEASE NOTE. The offer is only valid until the end of Monday Nov. 28th, or as long as supplies last. I may have to remove some items from the offer if we run out.
Thank you very much for your support.
Jesper Bram
Pope of Procrastination
at Flake & Flames HQ.
Here's the final video ad that came out of it. If nothing else…is weird 🙂