We are completely stoked to be able to bring you this announcement.
To cut it short…. ALL ASSOCIATE PRODUCERS WILL GET AN ACTUAL ORIGINAL CUSTOM MADE AIRBRUSHED T-SHIRT BY VON FRANCO, THE T-SHIRT MASTER HIMSELF.
This is so big we can't even get our heads around it. We are so proud to be able to offer you this. An actual original Von Franco t-shirt custom made especially for you.
Great many thanks to Von Franco for doing this with us. This is truly Kustom Kulture at it's best.
A Von Franco t-shirt will be given to all who claim the $475 Associate Producer perk.
http://www.indiegogo.com/flakeandflamesfinal
Here's the total layout of what is icluded with this awesome perk.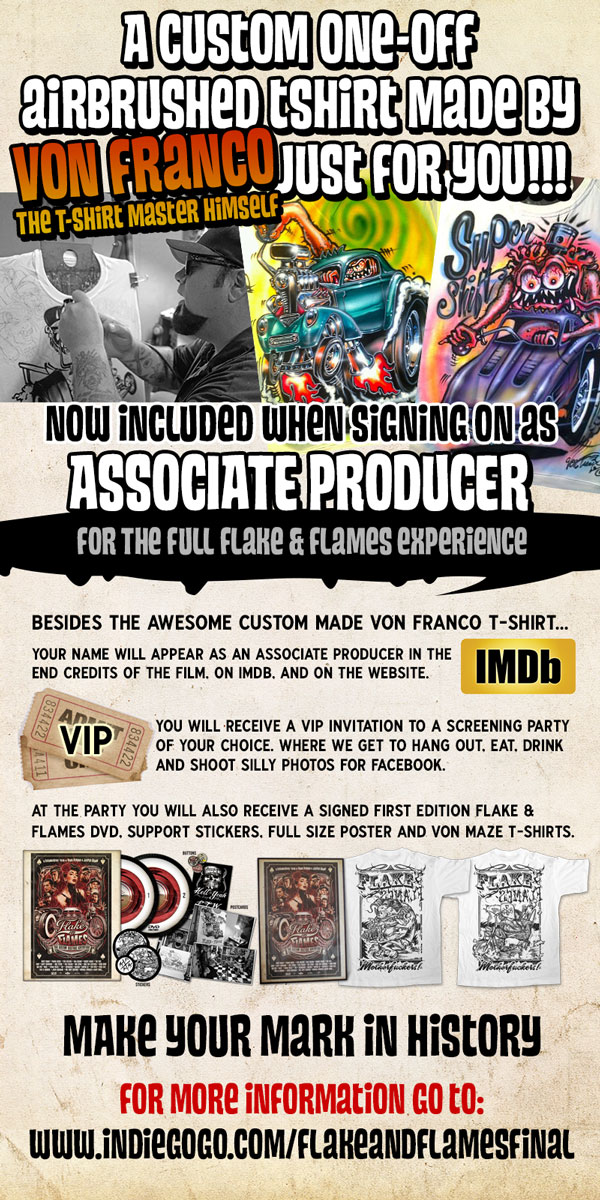 As Associate Producer your name will appear in the end credits of the film, on IMDB, and on the website credited as Associate Producer.
You also get invited to an official screening party of your choice (exact locations will be announced later, but they will be in at least several places around Europe and California). You get to hang out with us and take stupid-looking photos for Facebook while enjoying free food and drinks. At the party, you will also receive the DVD and all the other goodies. Where we will be happy to sign it all for you.
To top it off you will also receive a personal thank-you call from one of the filmmakers.
It all will be given to you who claim the $475 Associate Producer perk.
http://www.indiegogo.com/flakeandflamesfinal
Please note.
We are happy to pass on your suggestions for what you would like on your t-shirt to Von Franco. Like your name, type of vehicle, special monster or such. But we respect Von Franco's 100% artistic freedom. What he paints in his unique style will be entirely up to the artist. Base T-shirt color is white, and you get to choose the size, and if you want the artwork on front or back. We will contact you after the campaign is complete.
Von Franco is a living legend. He worked together with Ed "Big Daddy" Roth and all the other great artists that founded the lowbrow art craze. They even made a film about Von Franco a while back. Here's the trailer.