Flake & Flames is back in stock in our european store! Now available as extended Clear-Jewel-Case Edition with a 24-pages booklet with all infos on the movie, artists & music! Get your copy now!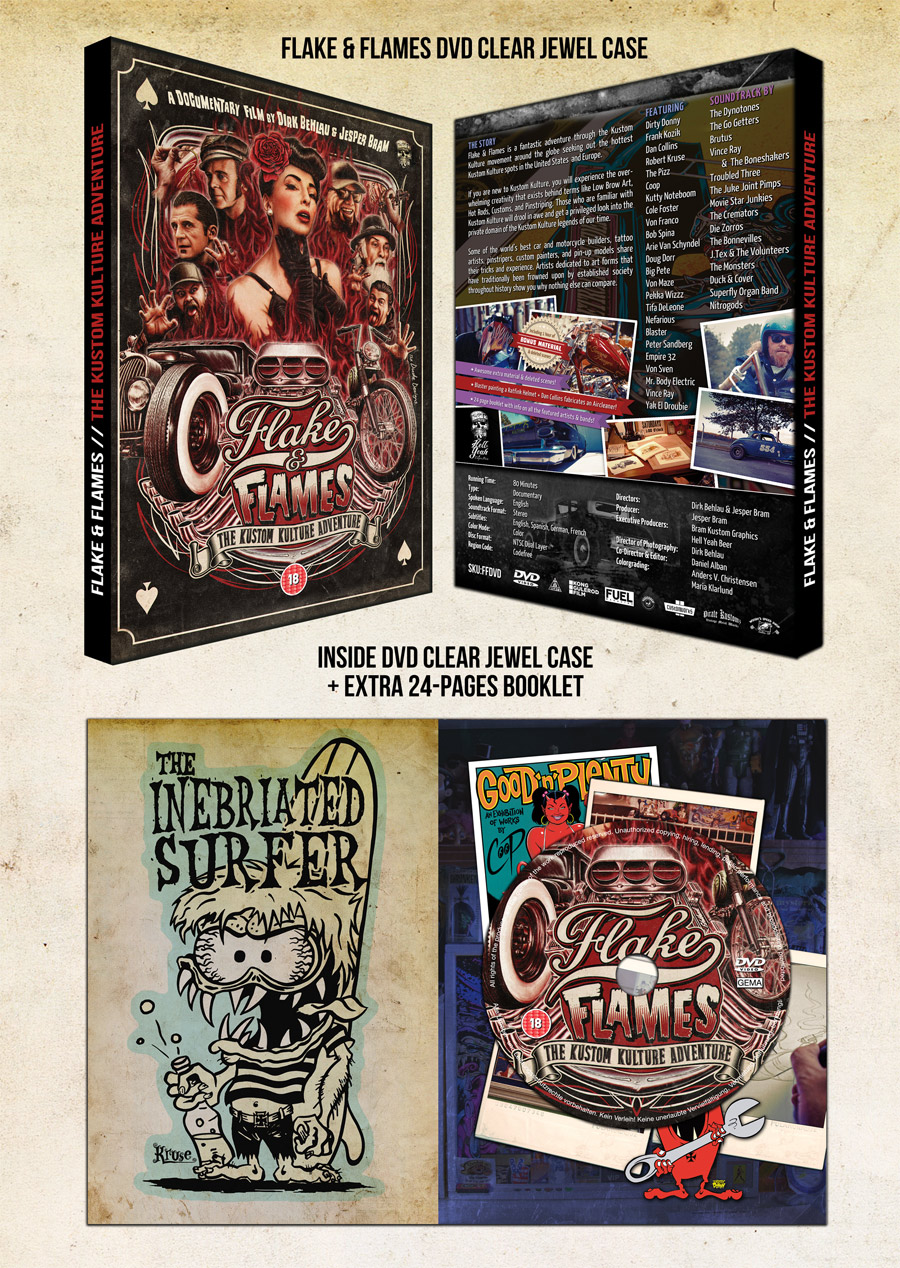 Attention: We still have some copies left of the 1st Edition Digipack available in our american store!
Some press reviews:
DEADBEAT Mag #26 (Australia):
"This has been one hotly anticipated film! Right from the time we saw the first trailer we were chomping at the bit to see this film released and that day has come. Filmmakers Jesper Bram and Dirk Behlau take viewers on a pretty damn cool adventure to seek out some of the most creative folk in the kustom kulture scene in the USA and Europe. […] To make it even cooler the dvd comes with deleted scenes and a booklet with info on everyone featured in the film."
dWRENCHED.com:
"Flake and Flames is a must have for the real grease and wrench monkey, chopper guy, hot rodder, gearhead, rockabilly fan. And I'm not shittin' you. Trust me on this. Basicly everybody who hates the simple, stock boring shit giving some kind of personal twist and flavour to things they own should have this. It's a just released-already classic. Great tunes too ! Just buy the damn movie. It's dope!"
DYNAMITE! Magazine (Germany):
"1956 wäre ein Rockabilly-Typ in einem Tanzlokal in Tennessee als ,Schwuchtel' bezeichnet worden." BÄMM! Es sind Sätze wie dieser, die "Flake & Flames" zu einer Offenbarung machen. Denn in der anderthalbstündigen Doku über Geschichte und Lage der Kustom-Kultur gibt es ausschließlich klare Worte von Leuten, die tief in der Szene leben: Pinstriper, Customiser, Tätowierer und Musiker aus den USA, Skandinavien und Deutschland stehen vor den Kameras von Dirk "The Pixeleye" Behlau und Jesper Bram. Die Artists erzählen ihre Geschichten – unverblümt, beeindruckend. Sie versuchen in Worte zu kleiden, was die Szene verbindet. Doch Worte greifen nicht, der Film stattdessen strahlt die Message selbst aus: Kustum Kulture ist schlicht ein Gefühl, ein Do-What-You-Want. Hauptsache es ist cool, dein eigenes Ding durchzuziehen. "Flake & Flames" zeigt mitreißend die Menschen hinter den Autos, Motorrädern und Zeichnungen. Aber es geht auch um Pin-ups, Skateboards und Musik – von Rockabilly über Country bis hin zu Punkrock und Surf. "Kustom Kulture ist ein Mix", sagt Peter Sandberg von den Go Getters. Seine Band hat zur Doku den Sound beigesteuert. Wie auch The Dynotones, Vince Ray And The Boneshakers, Brutus, The Bonnevilles, Nitrogods, The Juke Joint Pimps, Troubled Three und Die Zorros. "Flake & Flames": kaufen, ansehen!