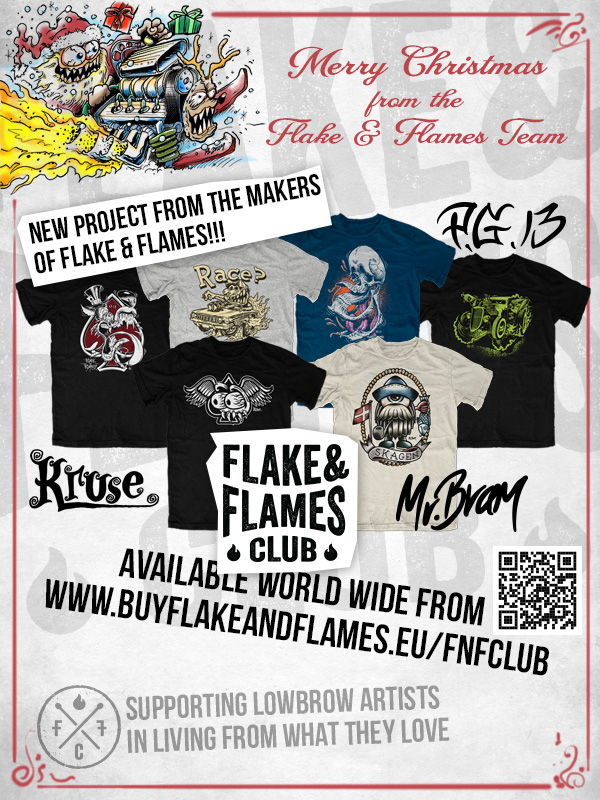 We would like to use this opportunity to give you our warmest regards and thank you again for your support in making Flake & Flames – The Kustom Kulture Documentary a reality.
2013 have been a very busy year. We hope that know you have seen the film and are as proud as we are to be a part of the project.
The film is currently available through iTunes, and in our online shops in US and Europe not to mention all the local resellers around the world. We are constantly working on having Flake & Flames available on as many platforms as possible. More news on that very soon.
New project in the works
A brand new project have just been set to sea. We call it Flake'n Flames Club. Which in short is about helping artists produce and distribute awesome products at commissions that makes it worth their while. Getting artists one step closer to live from what they love. Getting cool unique products in the hands of the rest of us. A brand new batch of t-shirts from the first artists have just been released. Currently only available from the European shop, but we ship world wide. check it out at www.buyflakeandflames.eu
Please note!! If you want to be sure to get your stuff for Christmas, order before December 13.
Finally we want to thank all of you who have written us with great feedback, and left kind comments on our Facebook page. Also great many thanks to you who have reviewed and rated Flake & Flames on iTunes and IMDB.com. As well as all of you who always share our stuff on blogs and social media. It really means a tremendous lot to us. We follow the development very closely. We appreciate the continued support from you. It brings smile on our faces and warms our hearts. Independent production of anything, film or otherwise, can not exist without people like you.
Thank you.
Merry Christmas & Happy New Year.
Jesper Bram and Dirk Behlau.